Play Area Consultation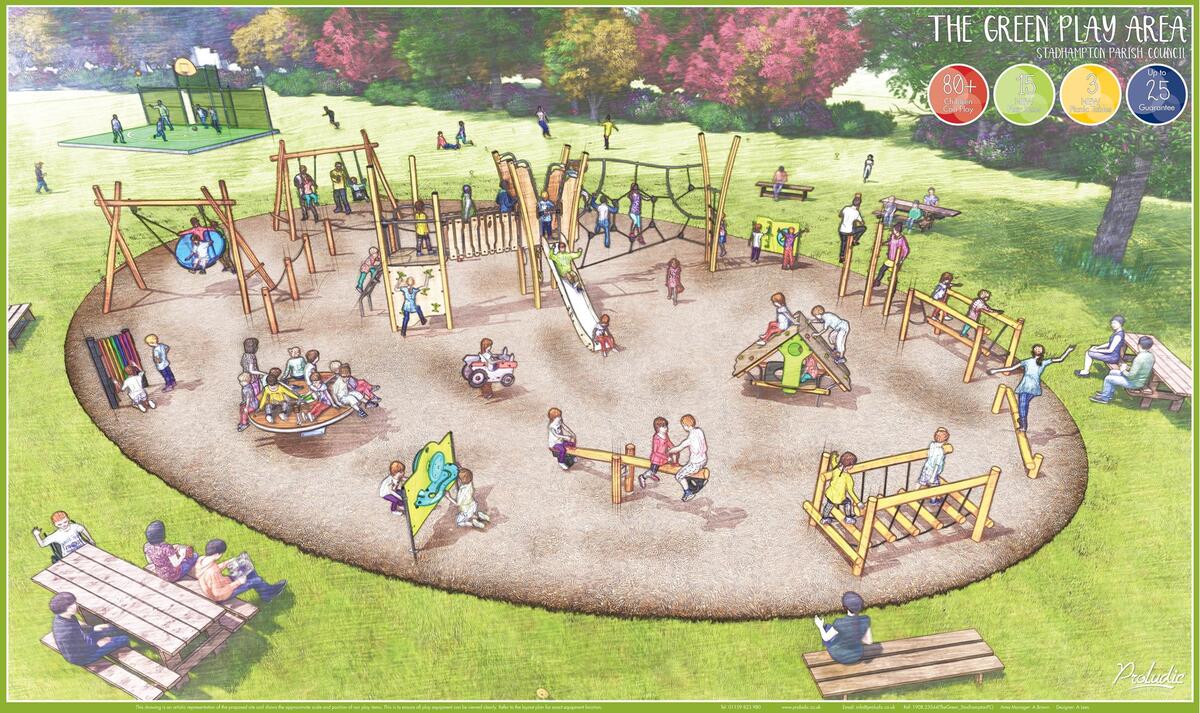 New Play Area Consultation
Over recent months the Play Area Working Group, led by Cllr Doug Struthers, has been reviewing options for replacing the existing play area on the Village Green – we are now seeking your views on the proposals
Summary
The existing play area on the Village Green is coming into the last few years of its life and needs replacing.
Funds exist within and outside of the Parish Council to replace the existing items and to consider some expansion.
The Play Area Working Group is seeking approval for this replacement scheme from the Parish Council. Through this survey the Council is seeking the village views on the proposal and also an expansion scheme to build a MUGA (multi-use games area) adjacent to and set back from the current play area, just in front of the SEE transformer. If selected, this MUGA will require change of use from village green.
Once approval is obtained the Play Area Working Group will gather at least 3 competitive quotes and make a recommendation to the Parish Council. Following approval the fund raising work will then begin.
Timing
The Group would like to obtain agreement to a full costed project plan at the November 2019 Council meeting.
The planned timetable is to start replacement works in October 2020
Costs
The group has always indicated a budget of £100k and initial estimates have come in within that figure.
Grants are available from SODC, recycling companies eg Biffa, other sources
Once comments have been received from the villages and Parish Council a final detailed and costed proposal will need to be ratified by the Parish Council – ideally this will happen at the November 2019 Council meeting.
Proposal
See the scheme layout from Proludic in the flyer enclosed with the Village Voice or on the website:
All materials to be in keeping with the village green feel ie. Muted colours, wood effect finish.
The scheme includes:
An area for young children 2-5yrs, with gravity riders and a small level play area
Older Primary aged play area, with swings, play tower and slides
As many of these items as possible are inclusive (swings, gravity rider) e.g. able to be used by children in wheelchairs
MUGA
There is currently no or very few areas in the village for teens to play.
The Working Group would like to seek opinions regarding increasing the play area to include an additional area as illustrated by the football/basketball goal in the visuals on the enclosed flyer
Pros: new facility for teens, something to do in village where currently there is only younger Kids items, helps keep them active and off iPads, may help unlock SODC higher levels of funding as a new facility vs replacement.
Cons: extra non-grass footprint on pretty village green, potential (not certainty) to create a late-night hangout zone, will it be used if current goals aren't used (by target Age group).
Other items – costs tbc
4 flat seating benches
2 tables – pub style
All from reclaimed/durable materials, not wood
WHAT NEXT?
The survey is now closed - thank you for your responses. The Working Group will make a proposal to the Parish Council at the November 2019 or January 2020 Council Meeting